Product Features
According to the application scenarios of ESPT-100 thermal receipt printer, it can be divided into local printing (USB/WIFI/BLUETOOTH ) mode and cloud printing mode.
Local printing (USB/WIFI/BLUETOOTH ) mode
ESPT-100 connects to other terminal devices (such as computers, pads, and mobile phones) through USB, WIFI, or Bluetooth. After receiving the printing instructions from other terminals, the printer prints the specific contents. Its working diagram is as follows:

Cloud printing mode(Only used in China)
Regarding of cloud printing ESPT-100, users can not only realize the function of online printing through USB or Bluetooth, but also use WIFI or 4G to connect to the network, it could realize the automatic receiving and printing of orders for merchants without any other terminal ,which is a perfect solution for automatic printing of takeout orders.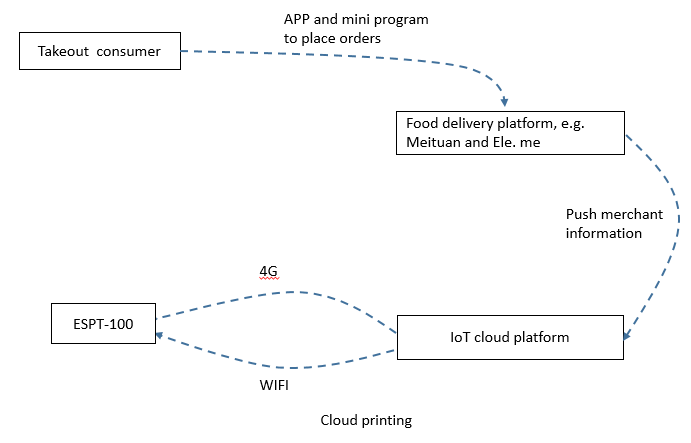 Local and cloud printing scenario
ESPT-100 thermal receipt printer can support both local and cloud printing. One printer can print orders from the delivery platform as well as orders placed in stores. In-store orders are usually printed via Bluetooth channel